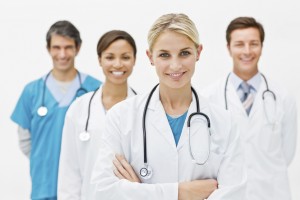 Your primary motivator in selecting a career field is that it must be something you enjoy.  The second most important factor is that there are good opportunities for employment once you have completed the program.  Most students entering a career training program in the healthcare field do it because they enjoy the work and helping people.  A bonus is that there is an increase in jobs available in the field.  No matter which area of healthcare you choose you can be sure that the jobs are on the rise.
Nursing
One of the fastest growing careers, there is also significant growth in opportunities within the nursing career field.  Depending on your level of education and years of experience, you can expect to earn a salary of approximately $65,000 per year.  For certified nursing assistants the expected salary is approximately $40,000.  There is a fairly large difference in the potential earnings and job responsibilities, and you will want to consider that when deciding on your career path.  A nurse must obtain at least an Associate's degree
Certified Medical Assistants
The salaries range from $28,000 to $41,000 per year depending on the certification, office, and experience.  Job opportunities exist in many different doctors' offices and various specialties.  CMA's handle a great deal of the administrative and clinical responsibilities within the office.
Emergency Medical Technicians
Salaries for EMT's average $37,000 and respond to emergency situations and emergency calls.  EMT's transport people to hospitals and work under very stressful circumstances.
Pharmacy Technicians
With an average income of $28,000, pharmacy techs also work in a variety of settings.  Their primary role is to work with pharmacists in dispensing medications to patients.
Registered Dietitians
With a salary range over $50,000, a dietician guides patients in learning how to eat for a healthier lifestyle.  Registered dieticians need to complete a Bachelor's degree prior to becoming certified.
Massage Therapists
Certified massage therapists can expect to earn an income between $35,000 and $50,000.  Massage therapists work with patients directly to help treat pain by working with their muscles.  There are many settings for a massage therapist, but many choose to be self-employed.
Apart from a highly competitive salary and earnings, there are many other benefits to working in the healthcare industry.  As we have an aging society, there will be a continued increase in job openings.  Not only will you have the satisfaction of helping others, you also have the benefits of job security and job stability.  In addition, you will never be bored with your job.  Because of the variety within the job, you will always have a new and rewarding challenge.  Also, due to medical care being around the clock, there are many jobs that offer a variety of hours and varied shifts and scheduling that works best for you.  For many, starting out in healthcare often leads to continued education and additional opportunities within the field, so the sky is the limit within the healthcare industry.