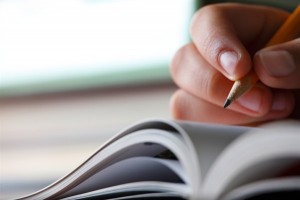 You have worked hard to complete your coursework in your chosen career field.  If you are entering the healthcare field, then you know that the work isn't over when the courses are completed.  You will have to pass a certification exam in your chosen field in order to demonstrate your competency in a subject and your readiness for work.  In taking any exam, you will want to do your best and not "just pass." Ideally, you want to perform very well and demonstrate your abilities.  Even straight-A students can struggle with an exam as nerves take over.  Your study habits will make the difference between passing the exam on the first attempt and struggling over time.  Taking and retaking exams can become very expensive, so you will want to be prepared on the first try.  Here are some tips to being successful as you prepare for the certification exam:
Don't Discount Your Coursework
You have spent a great deal of time studying and preparing for this point.  All of your coursework is important and you will need the information as you move forward.  Use your textbooks, notes, and previous exams to strengthen your skills.    There is a lot of information involved in the various classes, and if you have done a good job in your classes, you will have a lot of information as your basis.
Take the Exam Seriously
You cannot walk into the certification exams with the expectation of doing well if you have not prepared.  Most exams will allow you to retake them to improve your score, but if you can score well the first time, that is success.  In order to do well, you must be prepared.  There is no way to get around thorough reviewing of the material and practice testing where available, so you will want to find the best resources to support you through the process.
Invest In The Best Study Material
Good, supportive study material does not have to be expensive.  MedPreps offers superior quality practice tests for all of your certification exam needs.  In addition to offering quality service, they offer limitless exams that will test every aspect of the course, preparing you for the real thing.  Their 100% pass guarantee is a strong indicator of the value of the practice tests.  MedPreps offers full practice exams for the duration of your subscription that will target your weakest areas and focus your time and attention on the areas where you have the most need.  This concentrated approach will get you to your goal of passing on the first try.
Study, Study, Study.
Investing in the tool alone will not get you to your goal.  The practice exams are there to help you improve your study skills.  The ease and convenience of 24/7 access is even more simplified by allowing you access from your computer, tablet, and mobile phone.  There is no excuse for not being available to study.  Ideally, you will have a quiet place to study for a set period of time, but we all know that is not a reality for most.  A lot of students have to grab the minutes available to them whenever they can.  The time spent focusing on the practice exams will be a good investment in your future.
With the practice exams available through MedPreps, you are sure to be one step closer to passing the certification exam of your field.  Use the tools to build your study skills, and you will see the results in your first attempt at your exam.