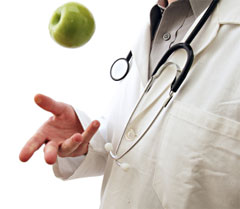 On cassoulet…
During my sophomore year at Saint Louis University, my fellow culinary students and I attended an Advanced Meat Analysis class.  Each day, we rolled up our jacket sleeves, grabbed hold of our boning knives, and peered apprehensively at the animals on our cutting boards.  Our Chef taught us to break down chicken, duck, salmon, lobster, and beef shank; one memorable lesson culminated in the five of us taking to a half hog with hacksaws and machetes.  We later came upon the head of the hog wrapped in a plastic garbage bag and tucked non-discretely in the fridge.  Naturally, this resulted in gasps and quick-witted answers about our renewed appreciation for Lord of the Flies.
I digress.  In class, we got to work mixing spice blends and preparing cheesecloth to make bacon and pancetta; our Chef was particularly fond of cured meats and promised it would be worthwhile.  And, though I was admittedly skeptical, I dutifully managed pig intestines as we prepared our sausages.
One morning, our Chef casually mentioned we would use the products to make cassoulet.  "All this work for one dish?" I scoffed to myself.  The pot simmered on the stove for the day as our Chef added white beans, sliced a baguette, and told us to set the table.
We gathered with spoons in hand as our Chef solemnly ladled the stew into each bowl.  Needless to say, I was spellbound within the first bite and spent the hour-long meal in silent reverence.  Each succulent spoonful brought back memories of curing, cleaning, stuffing, and stewing.  The cassoulet meal marked a turning point; never before had I tasted a dish so rich, so complex, and so humbling; never again would I scoff at a dish so demanding of thorough dedication.
On kale…
We all remember food jags from our childhood- periods where we would eat one food meal after meal.  Our concerned parents were calmed by the knowledge that food jags are normal for children and will pass with time.  Alas, it seems I have reverted to this catch reserved most commonly for persons under the age of eight…I am hooked on kale.  As I confess this mild obsession, it is with secret hope that I may turn others onto this particular vegetable.
First, the culinary student in me loves kale for its versatility.  Lately I've been wilting it into pastas, braising it with some pancetta and a touch of apple cider, or massaging it with lemon juice and olive oil then tossing it with dried cranberries.  Second, the nutrition student in me loves kale for its nutrient content.  In less than 20 calories, ½ cup cooked kale provides 100% RDA vitamin A, nearly 50% RDA vitamin C, and a hefty 650% RDA vitamin K.  Bring on the paper cuts.  Finally, the college student in me loves kale for its price and heartiness.  An entire bunch costs less than a dollar, and can last in my crisper for weeks without the slightest droop.
While in confession mode, I must also admit to bypassing kale and other assorted greens for most of my life, partly due to their unfamiliarity, but mostly due to my dread of awkwardly stuffing the entire leafy bunch into a tiny plastic sack in the middle of the produce aisle.  It is now a feat I look forward to- stuffing two, sometimes three bunches into my bag.  Given the inestimable virtues of this leafy green, it is one food jag I hope never tires.
Recipe for Kale Chips
½ head kale, stems removed
1 Tbsp olive oil
½ tsp salt
¼ tsp ground black pepper
Drizzle olive oil over the kale and season with salt and pepper.  Using your hands, massage the oil into the kale until it is coated.  Arrange the leaves on a baking sheet in a single layer—don't crowd them—they are very fickle and need their space!  Bake in a 400 degree F oven for about 10 minutes, keeping an eye on them to make sure they don't burn.  Some pieces may cook quicker than others, so be prepared to remove the cooked chips and return the pan to the oven.  The chips are done with they are dry and brittle…like a very delicate chip!
To prepare for RD certification to get ahead, we certainly recommend RD Practice Tests or Registered Dietitian Practice Exams for preparation, in addition to study material and practical review.