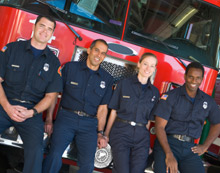 Q: Is diversity important in the fire service?
Strategies
The key to this question is to not focus on race in your answer. The question is asking about diversity but it is not stated as racial diversity. It is proper to acknowledge race in your answer but the focus should be on the diversity of talents and gifts found in the people that make up any organization. If the department has a set of core values you can reflect on how core values are the "shared values" of the organization. You can also use the mission statement if the department does not have core values in place. This is a good place to call attention to the fact that humble people are able to see the talents and gifts in others and are quick to defer to someone with more expertise on a subject. It is good to verbalize how this attitude makes for a stronger department and this is your attitude.  This is an important question that will test your depth in a way that a firefighter practice test does not.  It is important to note that if you decide to use the Core Values or the Mission Statement you better have these memorized just in case you are asked to recite these.
Example
Absolutely. It is clear that we all come from diverse backgrounds. We come from different ethnic backgrounds and we come from different professional backgrounds. We practice different religions and we belong to different political parties. Furthermore, each of us has a set of talents and gifts that set us apart. These facts make us stronger only if we are humble enough to recognize the diversity in others. This is where a departments core values or mission statement come into play because no matter our race, belief system or the set of talents and gifts we posses, we can rally behind a shared set of departmental values. The Core Values and the Mission Statement set the expectation for all members to meet or exceed.