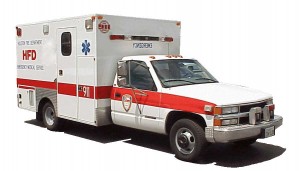 Emergency. Help! Help! Help! Who comes to the rescue? More often than not, an Emergency Medical Technicians (EMT). Thank goodness they exist. EMTs have a tough job that is most stressful. Unbelievable, who would have thought?! That question was most sarcastic, just FYI. The truth is that one-third of EMTs work overtime, overnight, and on weekends. They are often thrown into life-or-death situations… pulling people out of crashed cars, scooping people up from motorcycle accidents, trying to save the elderly, who are having strokes/heart attacks… basically, they are just trying to save lives left and right. Unfortunately, they have to let some people go… and that is not an easy thing to do, it is most difficult.
On a lighter and brighter note, money talks. According to the Bureau of Statistics 2010 report, an EMT makes on average, $30,360 a year. Additionally, currently there are 226,500 EMT jobs; this number is expected to increase by 33% between 2010-2020, now that is a booming market. Booming indeed, 50% of EMTs provide ambulance services with the other percentages split mainly between local governments and hospitals. On the job, EMTs spend a majority of their time treating work related injuries and illnesses. The job involves a lot of bending, lifting, and carefully moving patients. Some patients are mentally unstable and others put up a fight. EMTs are exposed to numerous diseases, the most common being Hepatitis B and AIDS. Thus, they must take preventative caution while on the job.
So, if that does not scare one away, then the next step is… how does one become an EMT and help serve humanity? Of course, there is an exam involved. Go online and practice, practice, practice with an EMT Practice Test! The exam consists of a practice part and then a written portion. But practice makes perfect, right?! Right. Additionally, one must complete 100 hours of training. A high school diploma is also required; classes in anatomy and physiology are most helpful. Lastly, one must be CPR certified. Now is a good time to become an EMT; because, soon there will be an increase in demand for such services, as the baby boom generation ages. Once one completes the course, the National Registry of Emergency Medical Technicians will certify the EMT. Alike the EMT, there is the Intermediated/Advanced EMT, whom are required to put in 1000 hours of training.
Also, if one is training to be a paramedic, that requires 1300 hours of training. All EMTs and paramedics however, must spend 8 hours training to drive the ambulance, fun little fact! The final fact is about similar jobs. Jobs most similar to EMT's are air traffic controllers, firefighters, physician assistants, police and detectives, and registered nurses.